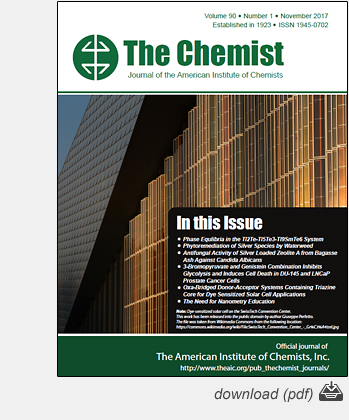 This issue of The Chemist has a lineup of thought-provoking and highly informative articles.  S. Z. Imamaliyeva and co-authors reported an experimental study of phase equilibriums in the Tl2Te-Tl5Te3-Tl9SmTe6 system. L. Bernas and co-authors investigated waterweed Egeria Densa as a proper candidate for photoremediation in aquatic environments. 
The study presented by A. A. Widati and co-authors demonstrated the preparation of silver loaded zeolite A from bagasse ash and its antifungal function against Candida ablicans. 
A research communication by H. Goldsmith and co-authors addressed the effect of 3-Bromopyruvate and Genistein combination on prostate cancer cells. S. C. Subramanian and co-authors explored the use of oxa-bridged donor-acceptor systems with Triazine core in dye sensitized solar cell applications. 
D. D. Kumar addressed the need for nanometry education.  In the Public Understanding of Chemistry Section, J. E. E. Baglin argued in favor of interdisciplinary bridges in science.
Table of Contents

David Devraj Kumar

iii

ARTICLES

S. Z. Imamaliyeva, V. A. Gasymov, M. B. Babanly
1

L. Bernas, K. Winkelman, A. Palmer

7


A. A. Widati, A. Baktir, R. Rachmawan

14


H. Goldsmith, G. Kazdailyte, J. Kumi-Diaka

20


S. C. Subramanian, M. M. Velayudhan, M. Narayanapillai

23


D. D. Kumar

32

PUBLIC UNDERSTANDING OF CHEMISTRY

J. Baglin

28

38

40

ANNOUNCEMENTS

45